Agenda for EngageMint 2018, Bangalore
3:30 am - 4:30 am
Breakfast and Registration
4:30 am - 4:45 am
Welcome Note by Avlesh
Keynote
4:45 am - 5:15 am
Opening Keynote by Kunal Shah
With over 10 years of entrepreneurial experience, Kunal Shah is credited with one of the biggest startup success stories of our time; Freecharge. After a celebrated exit of $60M in 2017, Kunal founded CRED – a reward-based credit card bill payment platform.
We're humbled to have Kunal Shah open the conference with a discerning talk on the key elements that will play a major role in skyrocketing your business in 2019. (You guessed it, building retention into your core product is at the top of the list!)

Breakout Session
6:00 am - 6:35 am
Gaming Your Way to Retention: The Play Games24x7 Story
"User retention was an inherent requirement for the business to survive and so, data driven retention, measured in value added to revenue, became the core philosophy of growth at Play Games24x7." – Sachin Uppal
We eagerly look forward to learning from Sachin's experiments with driving customer retention for gaming apps. This segment will delve deep into the evolving consumer behaviour of gamers in India and how you can leverage it to grow your business. It's a must-attend!
Breakout Session
5:20 am - 5:55 am
Cashing in on a Customer-first Approach to Drive Growth: The ZestMoney Story
With over 15 years of experience spread across several roles in the banking and finance sector across the globe, Lizzie Chapman has seen it all. The fintech sector has evolved rapidly over the last decade, and being at the center of these developments, Lizzie brings in a unique set of perspectives and learnings to the table today. With this breakout session, you can expect to gain a well-informed overview of the nature of customer engagement in fintech startups and the distinctive advantage offered by Indian consumer behaviour.
Breakout Session
7:05 am - 7:40 am
Decoding Indian Consumer Behaviour With Ankur Warikoo
Indians are known for their diverse and unique consumer behaviour across the world. But for most digital businesses in India, this means learning by trial and error. What works in the west, may not work in the north and what works in the north could definitely backfire in the east!
We couldn't think of a better person than celebrity entrepreneur, Ankur Warikoo to help you navigate this unchartered territory. Expect loads of never-heard-before insights, witty entertainment and highly implementable strategies from this session.
7:40 am - 8:40 am
Lunch and Networking
Panel Discussion
8:40 am - 9:30 am
The Evolution of Customer Experiences in Fintech
An intense, hour-long segment, our panel members are going deep-dive into the core customer-related challenges faced by fintech businesses, with a special emphasis on Indian users. Be sure to take down all the secret operational strategies our speakers rely on to create unforgettable product experiences!
Workshop
9:35 am - 10:30 am
Masterclass by Rajesh Bysani: Constructing a Powerful Retention Strategy
With over 15 years of experience spread across several roles in marketing and product management in leading Indian startups including BookMyShow, RedBus and FreeCharge – Rajesh Bysani makes the perfect go-to authority on customer engagement and retention.
With an hour-long interactive workshop, Rajesh will touch upon common user conversion, engagement, retention and reactivation challenges faced by consumer businesses. At EngageMint, we strongly believe that learning by doing is best way to exchange ideas and this workshop will surely live up to your expectations!
10:30 am - 10:45 am
Break
Breakout Session
10:45 am - 11:25 am
Psychological Hacks for Effective Product Communication
Effective product communication is tricky business. Factor in the elements of context, relevance and individual preferences – you have a sticky spider web to navigate. But by leveraging powerful messaging that appeals to the subconscious mind of your users, your communication can deliver desired results.
How? Find out at this session by Naman Sarawagi. A serial entrepreneur with a background in product and marketing, his passion for understanding nuances of consumer behaviour sets him apart as an expert in this domain.
General Session
11:30 am - 11:50 am
EngageMint Awards
A special segment of the conference, EngageMint Awards are a celebration of professionals who have strategised sustainable growth models by putting their users at the heart of their strategy. With this edition, we are excited to bring forth the top three retentioneers from the community who will inspire you with their experiments that transformed the way users experience their products, creating lasting brand relationships in the process.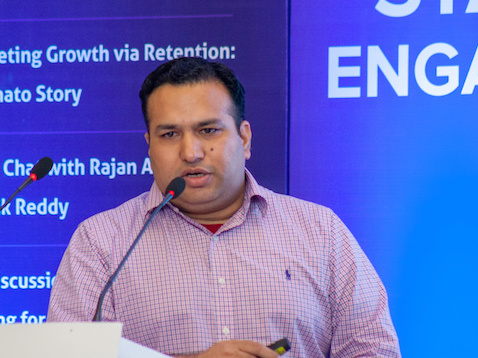 Product Announcement
11:50 am - 12:15 pm
WebEngage Next: Unveiling Ideas Brewing in Our Lab
On Dec 6, we're super excited to reveal two revolutionary features that will push the limits of real-time marketing automation, forever changing the way you engage users across platforms and channels. Take our word for it – it's momentous and you most definitely don't want to miss this segment!
12:15 pm - 2:00 pm
Cocktails